Home Watch:
Swiss Homewatchers monitors and inspects your home and property, protecting your investment and providing you with peace of mind. We know what can go wrong and we know what to look for.
We provide a wide range of services which can be customized to your individual needs.
Detailed interior & exterior Inspections
Monitoring of contracted Services
Tropical Storm Preparation
Pre-Arrival & Departure Services
Other Services as required
Prices vary on Home size and special requests. It starts at a moderate
price of $ 60.- monthly = Condos
price of $ 75.- monthly = Houses
Our Services
Full detailed Interior Inspection of your home
Our Checklist includes more then 25 Items under these headings
General Interior Checkup
Climate Control check
Interior Plumbing check
Interior Electrical Systems check
Full detailed Exterior Inspection of your home
General Exterior Checkup
Visual Yard & Lawn Inspection, not Irrigation
Visual Pool & Spa Inspection, not Cleaning
A/C Systems check
Monitoring of regularly scheduled home maintenance and contracted services
Pre-Arrival & Departure Services
Other tailored Services, such as:
Tropical Storm Preparation
Storm and Severe Weather Inspection
Key Holder Service
Rental Service:
If Home Owner is renting out his property for short term rentals either by himself or other rental agency we offer a rental service for $ 150 per month (home watch service is included automatically):
Act as first contact in case of trouble or questions
Respond to emergency maintenance requirements (limit one per month)
Additional responds to emergency maintenance have a trip charge of $ 25.–
Repairs made as needed at extra cost, if we can do it Rate is $ 40.– per hour plus Material
Should our presence be necessary for a longer period, e.g. Internet Problems, TV – Problems, the charge is $ 25.– per hour.
Requests of renters, such as turn on Poolheating, adjust Poolpump, check Internet Connection, reset the TV – Settings, if they have locked themselves out, AC – Adjustments and Settings check, etc. that require our presence a tripcharge of $ 25.– will be charged, and if needed additional time that we stayed on premises.
Should it become necessary that another professional company needs to come, e.g. Comcast, Plumber, Electrician, AC – Professional etc. and we need to be on the premises, a tripcharge of $ 25.– plus additional time that we stay there will be charged. It goes without saying, that these companies have their own fees
However it is our goal, to try to minimize your costs by trying to schedule appointments on days that we plan on being at your house anyway.
If your Renters agree to let repair persons in and do not request our presence there will be no charge. We will organize everything free of charge.
Depending on the quantity of such incidents we don't charge you at all.
Check-out Service: At end of lease conduct property inspection, report on damage and repairs needed, and organize cleaning
We depend on the honesty of your tenant about damages. It is impossible to determine if something is broken by the last tenant or before, especially if not the same persons clean. The same applies for items missing, there is no guarantee that it will be noticed.
Home watch service is included automatically for not rented time periods and not charge extra
Rental Agency:
If Home Owner would like rent out his property for short term rentals by us, we offer in addition to rental service (fee $ 150 monthly) our vacation rental agency/contracting as follows:
Our Commission is 15% of the net rental income (separate agreement/contract), which includes:
Preparing your Home for Vacation Rentals
Marketing , pictures, description and listings for advertising
Present your property on our website and online in other relevant vacation rental websites like VRBO etc.
The complete booking process
Monitoring of all Payments
Payments settling with the Home Owner
Tourist Tax payments to the authorities
Sales Tax payments to the authorities
Cleaning Service:
Prices depend of Home size and special requests. It starts:
price of $ 120.- = Condo
price of $ 150.- = House
Vacuum/mop all floors
Bedrooms: change linen, dust
Bathrooms: clean tubs, showers, toilets, sinks, mirrors and floors.
Kitchen: wipe cabinet exteriors, clean counters, sinks, microwaves and exterior of appliances, wipe inside of refrigerator, assuming it is empty
Living room/Dining room/Den dust all furniture, picture frames, tables and shelves
Sweep Garage
Wipe down Lanai/Pool deck
Light laundry, towels, linens
Cleaning of Grill, if needed, surcharge
Additional Cleaning at request (We recommend a General Cleaning at least once per year at additional cost, depending on the size and furnishing of the house)
Clean Ceiling fans, patio furniture
Thorough cleaning of interior of home / Garage and Lanai, patio / Pool-deck
Inside of cabinets, without cleaning of the contents
Oven – inside
Cleaning surcharge:
Depending on size and condition of home
Cleaning on Holidays: Easter / 4th of July / Thanksgiving, 24+25 December and
31 December and New Years Day / Possible surcharge if Cleaning needs to be performed on the same day. Guests must leave by 10.00h am!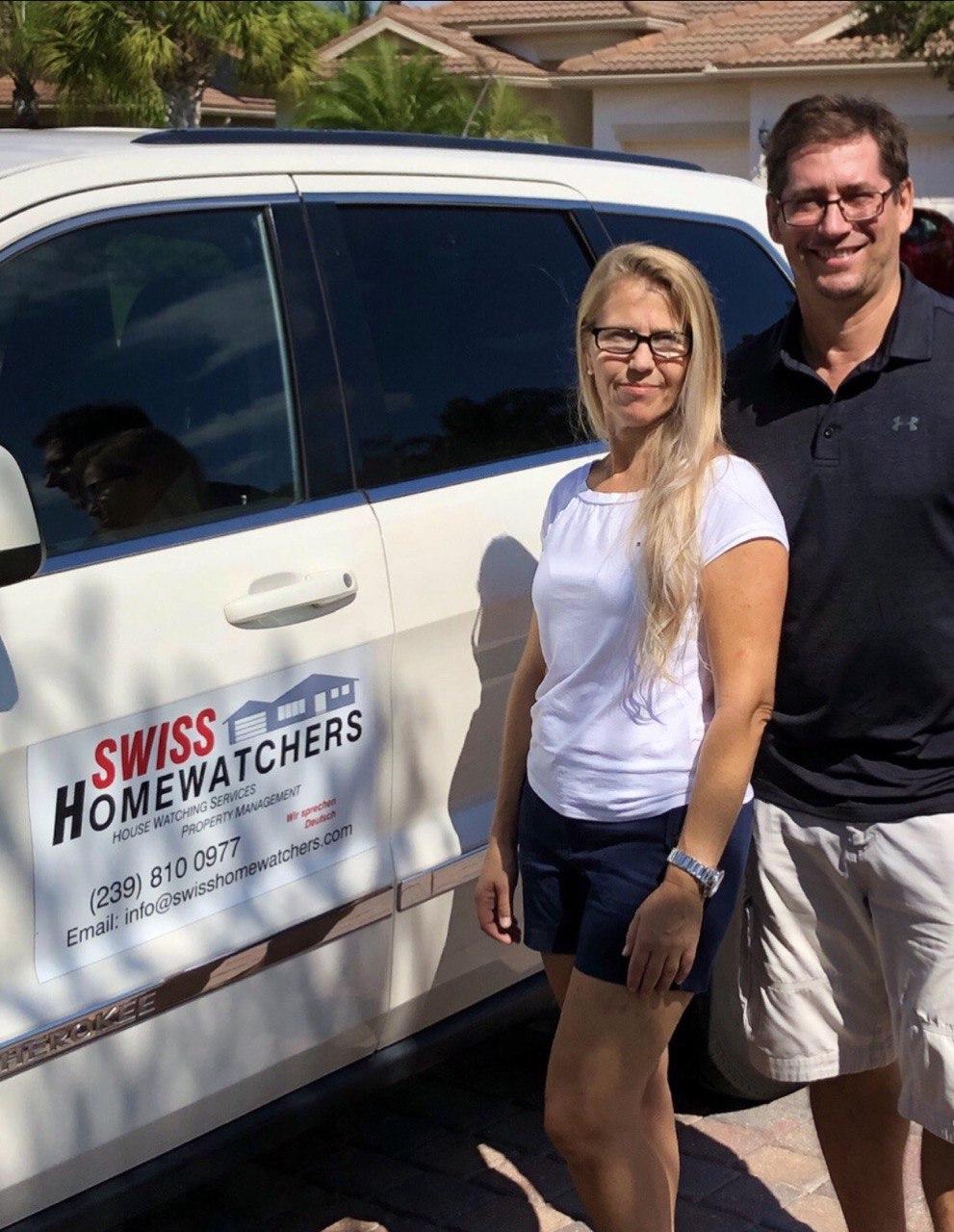 Swiss

Homewatchers take Care of your Home
The dream of home ownership in Naples can quickly become a nightmare when you're away. Not only Florida's harsh climate but also pests, mold, mildew and burglary are a threat we all face. Swiss Homewatchers take care of your home as if it were our own. While you are away, we make sure that your home is looked after, the way you would.
We provide a wide range of services which can be customized to your individual needs.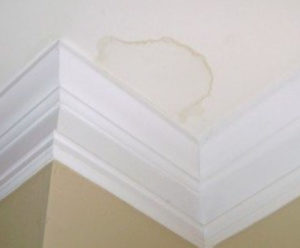 Leakage & Water Damage
Even a small leak can quickly create a lot of damage between the sitting water, the smell of stagnant water, and the potential for mold or mildew. Swiss Homewatchers will look through the home in common areas for leaks to ensure nothing is leaking. If a leak is found, we will alert you to the problem and help you with the next steps to have it repaired and the home restored.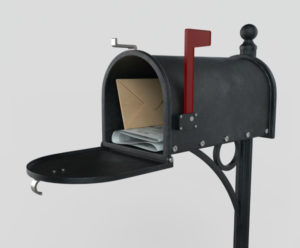 Collecting Mail & Newspapers
When the homeowner is away, the mail and newspapers start to accumulate in the mailbox or on the driveway. Swiss Homewatchers company will collect all of these newspapers, mail, and flyers and place them inside the home in a single location. This helps you ensure that everything is collected, so nothing is missing when you get back home.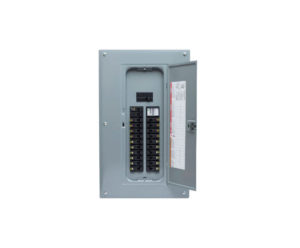 Electrical Equipment Failure
Summer heat combined with humidity and dampness can result in corrosion, mechanical and electrical equipment failure. Salt air can create corrosion on anything metal, rubber and plastic – inside and outside your home.
Florida's many thunderstorms could mean lightning strikes, frequent power surges and brown-outs which damage electrical systems and appliances, power outages and tripped circuit breakers. Swiss Homewatchers monitors and inspects your home and property, protecting your investment and providing you with peace of mind. We know what can go wrong and we know what to look for.
Our goal is:  We treat your home – like it is our own !
Our mission is to provide long and short-term House-watching within the Naples Area. Swiss Homewatchers understands from experience the needs and demands of absentee Homeowners. To own a vacation Home in Naples creates a gap in your peace of mind. We aim to bridge that gap by providing prompt professional and quality customized absentee Homecare. You can relax while you are away and know that your Naples home is in good, dependable hands.
Angelina and Darius have 5 years experience in Home and Facility Management in Europe and 3 years in Vacation Rental Management in Fort Myers Florida. Darius worked almost all his life in the technology machine industry as a sales and service manager and Angelina was a customer service manager in the hotel industry before she started a professional career in home and interior design and she is also a seamstress.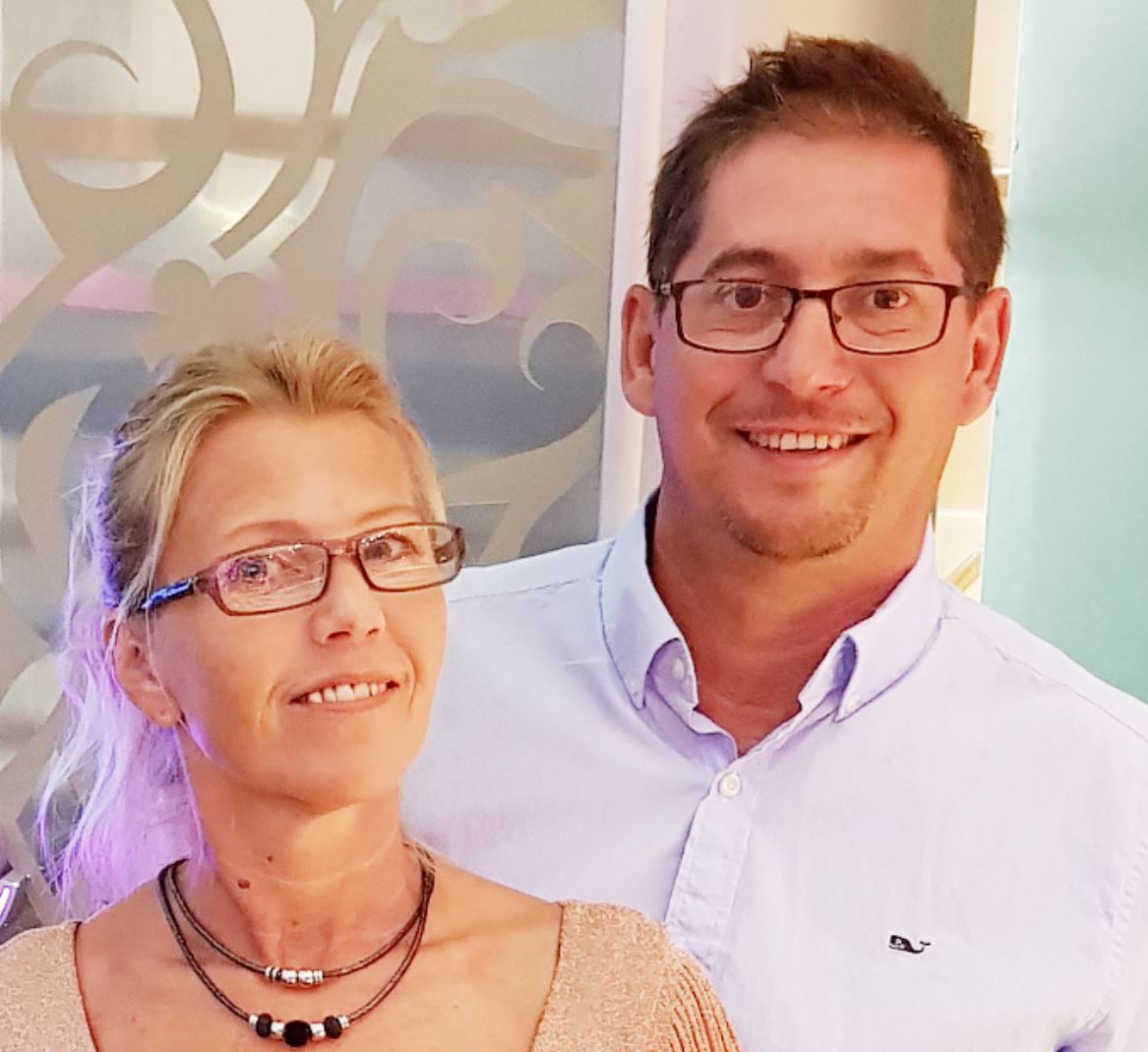 We have used
Swiss
Homewatch Services since 2018. Their service is excellent, providing peace of mind when we are back home in Germany.
The company is run with the highest attention to detail, integrity, and personal service.  Darius and Angelina are very professional and well organized.
We are very satisfied with the services rendered and we are happy that they watch over our house when we are not there.